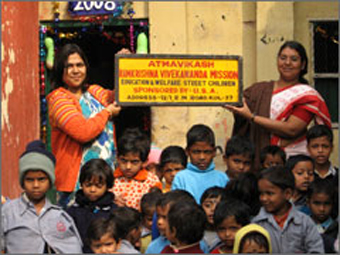 Our initial strategy to collaborate with a larger institution, the Ramakrishna Vivekananda Institute in Barrackpore, 18 miles to the north of Calcutta proved successful. The dynamic Swami Nityananda, a no-nonsense philanthropic leader with a secular agenda, already well-known for his diverse charitable work, scouted for 10 of the poorest children in the area and began utilizing his existing facilities to shelter and educate them. Under the SCI funded Project Calcutta, these youngsters would receive vocational training to prepare them for independent living by age 18. Some have now graduated and a total of 12 are currently being trained.
Limited funds, however, necessitated a shift in strategy. Funds had to be stretched to benefit the largest number of destitute children possible. "Pavement Schools" operated by Swami Nitynanda in the slums of Calcutta stood out as the ideal program SCI could support. The Swamiji had set up makeshift schools in a few slums, hired unemployed youth as teachers, luring slum children into morning and afternoon classes for lessons in reading, writing and arithmetic. The children waited eagerly for their snacks at the end of classes - simple, nourishing food - undeniably their most nutritious meal of the day.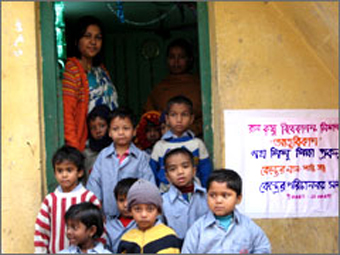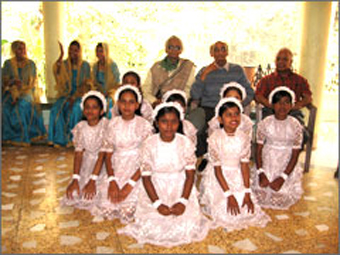 SCI decided to join forces with the RV Institute and now funds the operation of six schools serving about 300 children. SCI members bring in suggestions, ideas and information on other programs that SCI could initiate or join. For instance, SCI has contributed funds towards the building of a school for tribal children, and facilitated the operation of a crèche for tribal infants whose parents work in the fields all day. In the US, one of SCI's annual activities for many years was the donation of food, clothing and toys to the abandoned or HIV-infected children of recovering drug addicts at Hale House in New York. Other recipients of SCI include nutritional program for needy children and also gives one time donation for school building.